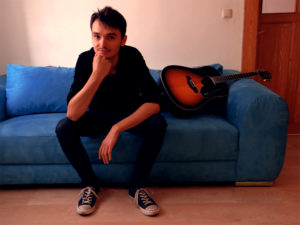 Rick Fewmore is an American singer/songwriter/performing artist currently making his mark in Germany. After being mesmerized by Prince's Superbowl halftime show at the age of 13, Rick picked up the guitar and dove head first into the art of songwriting and performing. While spending entire summers listening to Pink Floyd's 'The Wall' on repeat, and growing up in the 90's/2000s alternative era, Rick found and developed his musical voice. In addition, he credits his suburban New Jersey upbringing as one of his major influences:
"The music scene in my hometown was amazing and there was such a feeling of unity among the musicians. My high school sponsored Battle of the Bands competitions and open mic nights. I remember as a freshman, being completely in awe while watching a junior rock band. In their eyes, they were just having fun and playing some Zeppelin covers. But to me, they were rock stars, and I wanted to be just like them. They still don't know it to this day, but they inspired me tremendously, along with everybody else in that scene."
After high school, and a brief stint at University, Rick went on to attend the Institute of Audio Research in New York City, where he studied audio engineering and production. Upon graduation, Rick released two EP's between 2011 and 2013 and was nominated for Top New Male Act by the New Jersey JAM Awards.
In 2016, Rick packed his bags and relocated to Germany. Over the course of the past two years, he has continued to redefine his sound, combining modern pop production techniques with nostalgic overdriven guitar. Writing catchy songs with heart and rousing listeners with his unique sonic palette, Rick Fewmore leaves a relevant, yet refreshing musical footprint.