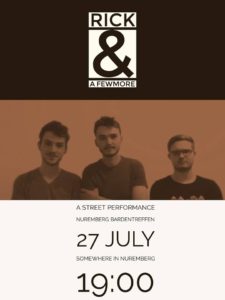 Hello people! I hope this message finds you all well. I've been working on some new songs and can't wait to share them with you. The perfect opportunity to hear them is this weekend in Nuremberg, Germany.
I will be participating in the annual Bardentreffen. It's a street performance fest that takes place the entire weekend starting on July 27th and ending on the 29th.
The exact location and time is unknown, however I will be updating this information via the mailing list. If you haven't signed up for it yet, then make sure you do so at the bottom of this page. I will be performing with two amazing musicians I had the pleasure of meeting recently. We started a band project together and have written some great songs that we're excited to premier!